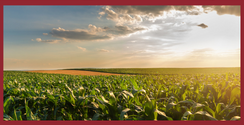 National Ag Day
March 21, 2023
F & M Community Bank has been serving farmers for more than a century because we understand the essential role the agricultural community serves in supporting our nation's food supply and bolstering the overall economy.
National Ag Day was founded in 1973 to recognize the contributions of farmers in providing Americans with healthy, affordable, and abundant food options. Here are some fun facts from ICBA about the ag industry:
The typical American farmer produces enough food and fiber to feed 166 people, producing jobs and investment throughout the economy.
Community banks provide 80% of all financing for new expanded business opportunities within their communities, and roughly $155 billion in ag loans.
7 percent of the nation's economy and 29 percent of American jobs are linked to the food and ag sectors, either directly or indirectly.
Amidst the global supply chain and rising inflation concerns, these sectors also exported $182.91 billion worth of goods, helping the U.S. maintain its position as a leading player in global agriculture.
We are proud to be community bankers and proud of the work that F & M Community Bank has done with agricultural community for the past 100+ years.
Contact a F & M Ag Lender for all of your ag banking questions and needs!