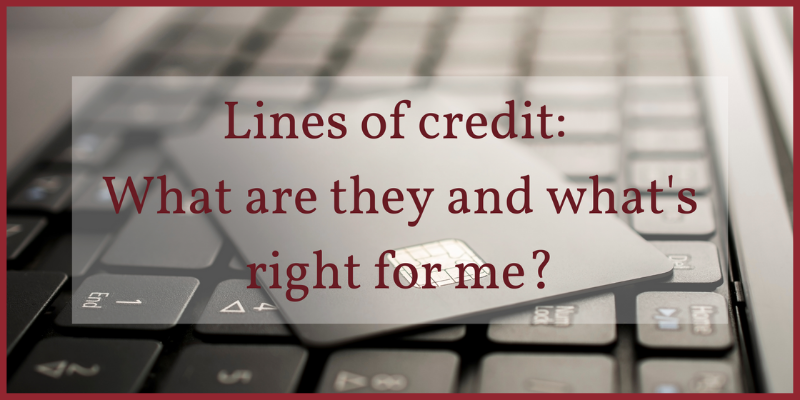 Lines of Credit - What are they and what's right for you?
You may have heard the term "line of credit" before. Chances are you're familiar with what this means, but did you know there are various types of credit lines? Knowing your options can help you decide what is best suited for your needs. Understanding lines of credit and how they affect your credit score is an important and responsible thing to research before applying for any new credit.

First an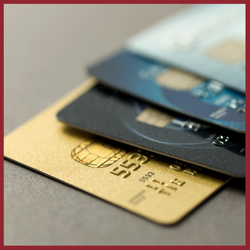 d foremost, what is a line of credit? A line of credit is a type of financing that offers a borrower the funds needed for expenses. A line of credit is typically an open-ended, revolving loan. What does that mean? Simply put, it means that you can borrow funds (up to your approved credit limit) and pay them back, and then borrow them again as needed. A credit card is a good example of a line of credit. After you make purchases with your credit card, you then make a payment, and then those funds are available for you to use again for future purchases.

Different lines of credit include:
● Personal line of credit - secured and unsecured
● Home equity line of credit (also referred to as a HELOC) - secured

A personal line of credit can be secured or unsecured. One example of an unsecured line of credit would be a ready reserve. A ready reserve is an unsecured line of credit that is attached to your checking account, to cover inadvertent overdrafts. If you have a ready reserve on your checking account, and your account runs short, funds will automatically transfer into your checking account (assuming your credit line has funds available) to cover the overdraft amount. Typically funds transfer in $100 Increments. "A ready reserve can come in handy in certain situations", says expert banker Misty Sass. Be sure to talk to your personal banker to see if a ready reserve is a good option for you.

Larger lines of credit, are typically secured with collateral such as a building, equipment, or a vehicle that you own. Chris Braendlin, F & M Community Bank's expert commer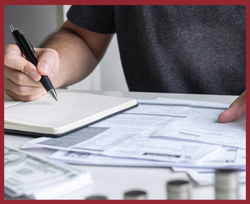 cial lender suggests "people often use larger personal lines of credit for things like renovations, consolidating debt, or covering education expenses, among other things," Chris continues on to say "many businesses also use credit lines known as an operating line of credit to help manage cash flow for their business." It's important to know that there can be expenses associated with personal lines of credit, such as maintenance fees, annual or monthly fees, and interest rates vary widely, so talking with an expert lender about the fine print is important.

A home equity line of credit, or HELOC, uses the equity in your home as collateral. It is often a "second" mortgage on your house, meaning you have a primary mortgage on the home already. Expert mortgage banker Tami Larson advises, "the amount of a home equity line of credit that you can be approved for will depend on the amount of equity that you have in your home" (the amount you owe on the home vs the value of the home). A HELOC is often used for larger expenses, such as a home improvement project or perhaps a down payment on a vacation home or investment property. Interest rates on a home equity line of credit are generally variable rates, which can change throughout the term of the loan. If you are not interested in having a variable rate second mortgage, there are fixed-rate, closed-ended second mortgage options available as well. A variable-rate vs. a fixed-rate second mortgage is an excellent conversation to have with a trusted F & M mortgage banker.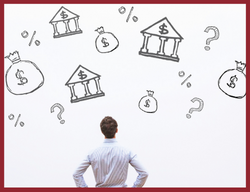 This Is just a brief overview of some credit line options. Each lending situation is different, as is every borrower. At F & M Community Bank, our experts take the time to visit with you about your needs and offer advice on what the best type of loan would be for your personal or business needs.

If you are exploring borrowing funds, start a conversation with an F & M Community Bank lending expert today by calling us at (800) 950-4745 or visiting our website.

If you found this "Lines of Credit" news story helpful, please share it with someone who will also find it beneficial. Thank you!