SBA Loans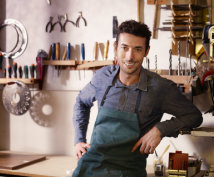 At F & M Community Bank, we believe the size of your business should have nothing to do with your ability to secure a loan. That's why we work with both the U.S. Small Business Administration and with you to secure budget-friendly financing for anything from commercial real estate, to business acquisition, working capital, and much more.
We also participate with the SBA 504 Loan Program, which allows borrowers to borrow up to 90% of their financing needs. Learn more about SBA 504 Loans.
Benefit from typically lower down payments and extended terms. Plus, additional considerations that are taken into account when deciding maturity*. Give your business what it needs to grow and prosper — look to a local bank for helpful answers today.
Summary

Available to start-up businesses, as well as purchasing and refinancing existing businesses
Government-assisted help for businesses that might otherwise have difficulty getting approved
Special financing for qualifying businesses
Competitive rates for a wide range of business needs:
Commercial real estate purchase
Construction
Business acquisition or expansion
Equipment/inventory purchase
Working capital
And more
SBA 504 Loan options available
Borrow up to 90% of your financing needs. Learn more about SBA 504 Loans.
A wide range of lending options available
Generally lower down payments and extended terms
Additional considerations taken when deciding maturity*
Local Southeastern Minnesota decision-making and processing for quick approvals
Detailed service from start to finish
Knowledgeable staff available to answer any questions you might have

*Loan maturities are based on the ability to repay, the purpose of the loan proceeds, and the useful life of the assets financed.