Rural Finance Authority Programs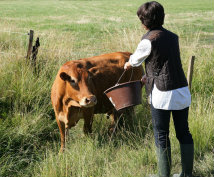 F & M Community Bank is proud to offer our well-deserving agricultural clients with an additional source of funding. We work closely with the Rural Finance Authority (RFA) to secure budget-friendly financing that might not be available to a growing operation otherwise.
Benefit from a wide range of financing programs, each for different purposes with unique criteria, including restructure, livestock expansion, disaster recovery, and more. We love nothing more than seeing our agriculture clients and the local community succeed. Speak with an F & M representative about whether your operation is eligible for one of these loans today.
Summary

Rural Finance Authority (RFA) is Minnesota's main agricultural lending arm
Enacted in order to develop the state's agricultural resources
Secure terms and conditions not typically available otherwise
Typically lower rates than charged by other private lenders
A wide range of programs available for specific purposes — each with individual borrower criteria and other details:
Basic Beginning Farmer
Seller-sponsored
Agricultural Development Bond
Agricultural Improvement
Restructure II
Livestock Expansion
Value-added Stock
Disaster Recovery
Methane Digester
Livestock Equipment
Pilot Agricultural Microloan Program
Local Southeastern Minnesota decision-making and processing for quick approvals
Detailed service from start to finish
Knowledgeable staff available to answer any questions you might have
Easy, 24/7 online account access available once the loan is finalized

Learn More

To lean more about RFA loans, visit the RFA website.





Eligibility

In general, a borrower must be the principal operator of a farm who is also (1) a Minnesota resident, (2) a member of a family-owned and -operated farm corporation, or (3) a member of a family-owned and -operated farm partnership. Beyond these general requirements, many programs have their own eligibility rules. To focus support on smaller beginning farmers, several programs limit eligibility to those whose net worth falls below an inflation-adjusted threshold.