Debit Card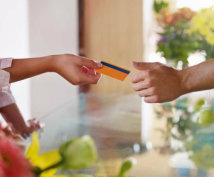 Get the power of cash and the security of a check in one! An F & M debit card in your pocket means you have spending power wherever you go. Whether you're in-store or online, around the corner or around the world, your purchasing power always remains the same.
The very same card is used to make ATM withdrawals. The ultimate in convenience, only a swipe a way — sign up for a versatile debit card today.
Summary

Available with any F & M Community Bank deposit account
Direct, anytime access to your account balance
Make online or in-store purchases virtually anywhere, worldwide
No finance charges or monthly service charges
View an up-to-date record of transactions online
Easily withdraw funds from ATMs; surcharge-free access available via the MoneyPass ATM network
Safer and more convenient than carrying cash or checks
Eliminate costs associated with checks and paper waste
Easily replaced if lost or stolen
To activate your new card or create/change your PIN, call 800-992-3808.