Commercial & Farmland Real Estate Loans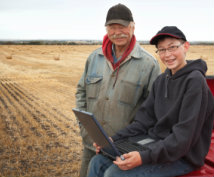 Structure is everything in a business — organizational and foundational. Keep your real estate structure in line with your goals with the help of F & M Community Bank. We offer competitive rates for the purchase, refinance, or construction of commercial and farmland properties.
Whether you're financing your own property or an investment, we'll work closely with you to customize financing in line with your operational needs. And just like you do business locally, so do we. We handle all decision-making and processing just around the corner, offering you the quick and easy answers you deserve.
Summary

Competitive rates for the purchase, refinance, or construction of commercial and farmland properties
Available for owner-occupied or investment properties
Customized terms, designed around your business's unique needs
Helpful loan advisors with working knowledge of the local real estate market
Local Southeastern Minnesota decision-making and processing for quick approvals
Detailed service from start to finish
Knowledgeable staff available to answer any questions you might have