Convenient Visa® Prepaid Access and Gift Cards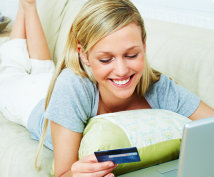 Enjoy more spending flexibility wherever you go.The Visa prepaid Access cards and gift cards are accepted anywhere Visa is accepted -- which is just about everywhere! They're safer than carrying cash, and just as easy to use.
The prepaid Visa Access card is great for customers who want to limit their spending, with the option of reloading their card. Give the perfect gift with the Visa gift card, which lets your recipient choose the gift they really want. Pick up your Visa prepaid Access or gift card at any of our branches today.
Convenient Visa Access Card:

Great for customers who do not have a traditional checking account
Load and reload card at the bank where it is purchased
Make purchases and get cash wherever Visa debit cards are accepted
Online, in store, at ATMs, and over the phone
Enjoy more spending flexibility:
Pay bills online
Make secure purchases online
Limit discretionary spending
Provide budgeted spending money to students away at school
And more!
Access card account via cardholder website, mobile app or customer 800#, 24/7
Get text and email alerts when card is used or balance is low
Secure, convenient, and easy to use

Convenient Visa Gift Card:

Perfect gift for anyone -- recipient can purchase exactly what they want
Good anywhere Visa debit cards are accepted
Online, in store, and over the phone
Load the card once for any amount between $10 to $500
Spending is limited to the prepaid amount loaded on the card
Get text and email alerts when card is used or balance is low
Access card account via cardholder website or customer 800#, 24/7
Secure, convenient, and easy to use